Had gone to bed early and woke up around 5.20. I was okay with that.
Did write morning pages, then worked on the novel!!! (Yes, this warrants three exclamation marks.) Funny, how my mood was so much better after that. I had to trick myself by saying that I just needed to look at it for ten minutes, maybe write a sentence or two. Then I went on to write 1,200 words in 27 minutes. Duh.
Then there was breakfast with the boy who was up really early:
Somehow I only got around to taking a picture after having eaten half a slice, oops.
There was cake for breakfast because it was the boy's birthday. He turned sixteen already. All growed up. Well, almost. He mostly got money and a Slipknot t-shirt that he loves. I kept thinking that I should have given him a book or an ebook reader but he is still using my old Kindle keyboard and doesn't really need one.
The money will mostly go towards speakers for his computer because he is listening to music a lot.
Then I knitted, my husband showed up for breakfast, we talked, there were dishes and then we both went running: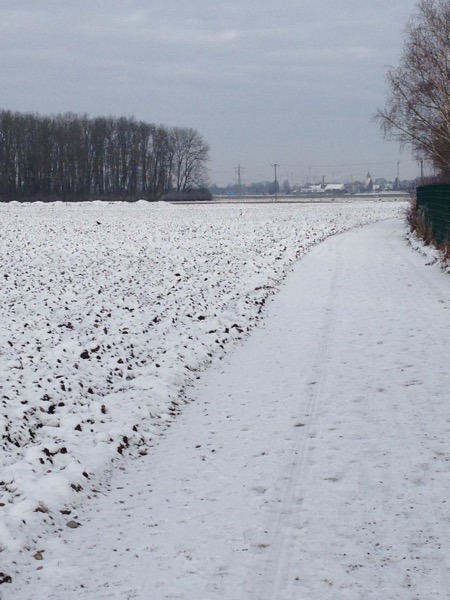 I did a slow, lazy 5k. It was pretty cold (and I think that's what made me extra-slow) but very agreeable.
Then my husband and I made pizza without quarreling. In fact, we have managed to cook together without fighting for ten days in a row now. Seems that our conversation two weeks ago really changed something. Huh. Only took 24 years.
Since we went out for lunch last Friday all the makings for pizza were still in the fridge. My husband had had plans to make pork cutlets with potatoes and Brussels sprouts but I found that a little cruel for the boy's birthday. One, he doesn't eat meat and two, the one thing he dislikes eating are Brussels sprouts. Pizza was a much better idea:
Ours had tuna and anchovies and capers and the boy's had fresh mushrooms.
Then I spent some more time watching productivity videos for writers on Youtube while knitting. I have to say that super-bulky yarn goes rather quickly. I have finished about ten centimeters of the cardigan's body and one sleeve up to the yoke already.
Then there was a shower and more dishes and some planning for next year, and very little teaching.
Then we celebrated by watching more Star Trek while I spun, after we opened a bottle of champagne:
I managed to write a few more words and to go to bed on time.
Today there will be more writing (I hope), I'll go to the health food store and the optician, teach some students, plan some more, do strength training for a bit and go to bed early again.
My life is just so exciting!